WAM Engineers Pty Ltd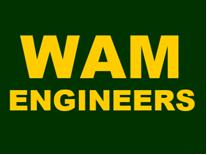 WAM Engineers Pty Ltd is a one-stop Queensland, New South Wales , Papa New Guinea, FIJI , UK , CHINA based structural, civil geotechnical and hydraulic engineering firm.
Our Managing Director, Andrew Mudie, offers over 35 years of hard-earned experience both in Australia and overseas and is a senior registered professional chartered engineer in Queensland, UK, PNG and Fiji.
We proudly boast our integrity and a team of structural, civil, geotechnical and hydraulic engineers who will deliver state-of-the-art economical designs particularly in the fields of residential, industrial and commercial building projects. Our mission is to provide the ultimate in engineering quality across a diversified field of engineering.
We pursue satisfaction and trust of our clients. Simply stated, we priorities clients' interest to deliver the structural, civil, geotechnical and hydraulic engineering jobs on time and within budget for your initial enquiry. At the same time, we guarantee that our projects comply with environmental and regulatory standards that surpass the normal requirements covered by general codes of practice and Australian Standards.
Contact us now and you will be delighted at your decision as we offer expeditious levels of service and economies achieved through our revolutionary business model.y,
For your initial enquiry. Please telephone or email our Managing Director:
Phone: 0427 463 360
Email: andrew@wamengineers.com
Alternatively, please telephone or email our engineering team
Phone: 0401 477 660
Email: info@wamengineers.com
CALL OR EMAIL US TODAY TO GET A FREE QUOTE!